Garlic Sausages Recipes
(Always boil garlic sausages to 160ºF or 25 minutes and make sure you always stick a fork in the sausages one time while they are boiling. This will allow the excess liquid to be released).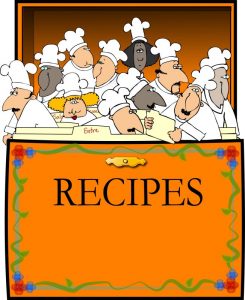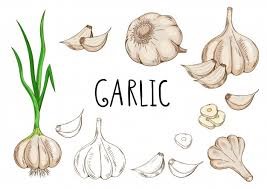 Below are recipes that have been submitted to us by our customers! If you would like to submit your own recipe, use the form below and we'll add it! Thank you so much for your support!
COWS IN A BLANKET
Ingredients:
3 garlic sausages
1 box puff pastry shells ( I use Pepperidge Farm)
Less than half a cup of yellow mustard
1 egg white for egg wash
Parchment paper
Cookie sheet
Directions:
The oven should be set to  400º
Layout a sheet of parchment paper on the counter where you will be working and another on the cookie sheet
(size to your liking)
Spread the pastry sheet onto the parchment paper and flatten it out.
(you want it a little thinner than it originally is)
The first time I made this I did not boil the sausages first.  As a result, they were very greasy.
Boil the sausages first.  Don't forget to stick a fork in them while they are boiling.
Allow the sausages to cool (room temperature)
Remove the skin/casing
Spread mustard as little or as much as you want onto the pastry shell, one sausage at a time.
Place the garlic sausage almost to the edge of the pastry shell and roll until the sausage is covered and the shell overlaps.
This will prevent the shell from opening up during baking.
If the ends are too long clip off some but make sure there is enough to pinch together for no exposure.  Pinch all sides to make sure the shell is completely closed/overlapping.
Repeat this with the other garlic sausages.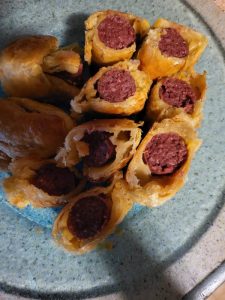 Egg wash each cow
Place each cow on the cookie sheet
Bake until they are golden brown.
Let cool for about 5 minutes
Cut into thick rolled slices and enjoy as they are or with additional mustard.
Or you can serve them on a stick like a corn dog.
Share Your Garlic Sausage Recipes Here!
Shrimp Boil Foil Packs (serves 4)
Submitted by: Nakia Helgren
Ingredients
1lb shrimp-peeled & deveined
4 mini ears of frozen corn, thawed or 2 ears of fresh corn, husked
4 garlic sausage links, hot or mild casing removed and sliced
1lb baby red or baby yellow potatoes
3 tablespoons Old Bay seasoning
Salt & pepper to taste
1 tablespoons minced garlic
Juice of 1/2 lemon or 1 & 1/2 teaspoons bottled lemon juice
3 tablespoons butter, melted plus 1/2 cup (1 stick)
16 ounces of steamed broccoli florets
Parsley and lemon wedges for topping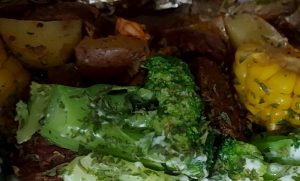 Directions
1. Preheat oven to 400°F.
2. Chop corn into thirds, then chop each third in half lengthwise. Chop potatoes into 2 inch pieces. Boil corn and potatoes for 10 minutes. Drain and set aside.
3. In a large bowl combine Shrimp, sausage, corn, and potatoes. In a small bowl stir together the melted 3 tablespoons of butter, Old Bay seasoning, minced garlic, lemon juice, and salt and pepper to taste and pour over Shrimp, sausage, and veggies. Stir to coat.
4. Divide the shrimp mixture between four 12×12 inch sheets of aluminum foil. Fold edges of foil up around the mixture to create a closed packet.
5. Place foil packets on a sheet pan and bake for 15 to 20 minutes or until corn is tender and shrimp are pink and fully cooked.
6. While packets are baking, melt remaining 1/2 cup (1 stick)  of butter in a medium sauce pan over medium heat. Once melted, continue to stir gently over medium heat for 3 to 4 minutes longer until the color of the butter changes from pale yellow to a golden amber (be careful not to burn the butter).
7. Serve each packet topped with the steamed broccoli, parsley, lemon wedges, and the browned butter.